<!-ShowPage(index.html)->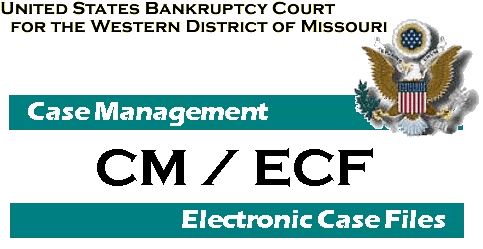 Welcome to the U.S. Bankruptcy Court for the Western District of Missouri
<!-ShowPage(OperationNotice.htm)->
Hands-on Training | Events List | ECF Procedures | User's Guide | Local Rules | Register for CM/ECF | WDMO Website
---
NOTICE OF PAY.GOV SERVICE UNAVAILABILITY
FROM 6:00 PM to MIDNIGHT, SATURDAY, MAY 9

Pay.gov, the service used for electronic payment of filing fees in the Western District of Missouri District AND Bankruptcy Courts, will be unavailable from 6:00 pm to midnight on Saturday, May 9, 2015 CDT due to maintenance being done by Pay.gov. If you file a new case or a document that requires a fee during that time, you may need to pay the fee later.

Should you have concerns about your ability to serve your clients due to this Pay.gov downtime, please contact one of the following managers:

Bankruptcy Court Filings:

Rob Lawson 816-654-5351
Cecelia Parle 816-668-4074
Susan Wexter 816-729-8411

District Court Filings:

Laura Bax 573-291-9173
Karyn Williams 417-353-5082

Thank you for your patience.

---
10May2012
Court Information