<!-ShowPage(index.html)->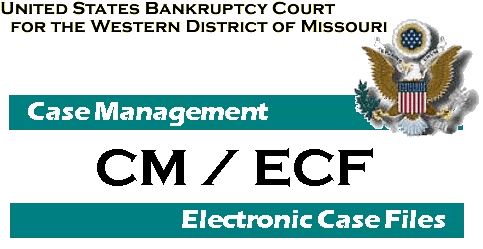 Welcome to the U.S. Bankruptcy Court for the Western District of Missouri
<!-ShowPage(OperationNotice.htm)->
Hands-on Training | Events List | ECF Procedures | User's Guide | Local Rules | Register for CM/ECF | WDMO Website
NOTICE OF PAY.GOV SERVICE UNAVAILABILITY
BEGINNING 5:00 PM CDT, SATURDAY, APRIL 29

The Pay.gov service for CM/ECF for the Bankruptcy Court will be unavailable from 5:00 PM to 11:00 PM Saturday, April 29, 2017 CDT for maintenance. This means that payments for filings with the court cannot be processed during this time. No filings which require a fee should be made during this time. All other filings will continue to be accepted.
Thank you for your patience.

---
---
27August2015
Court Information