<!-ShowPage(index.html)->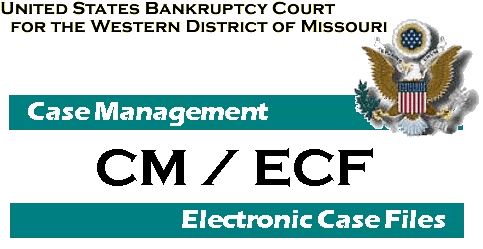 Welcome to the U.S. Bankruptcy Court for the Western District of Missouri
<!-ShowPage(OperationNotice.htm)->
Hands-on Training | Events List | ECF Procedures | User's Guide | Local Rules | Register for CM/ECF | WDMO Website
---
CONCERNING SERVICE DISRUPTION OF MARCH 26


On Thursday, March 26, from approximately 12:00 pm to 2:00 pm, the Missouri Western Bankruptcy CM/ECF filing system was experiencing an issue of logging out users unexpectedly. The issue has been resolved, and we thank you for your patience. We apologize for any inconvenience that may have been caused by the disruption in service.

Should you have any concerns, please contact one of the following managers:

Bankruptcy Court Filings:

Rob Lawson 816-654-5351
Cecelia Parle 816-668-4074
Susan Wexter 816-729-8411

Again, thank you for your patience.

---
10May2012
Court Information